The best
Laboratory Gear Pump
-To find the finest quality
Laboratory Gear Pump
from a manufacturer, supplier, wholesaler, distributor, and factory. We are a fully integrated Taiwan manufacturer and exporter, supplier
Laboratory Gear Pump
. We have high qualified and dedicated workforce which assures you of on-time delivery of high quality products. If you are interested in any styles of our products, please feel free to
contact us
.
To find and shop the best Laboratory Gear Pump, you need to know about the highest quality of Laboratory Gear Pump manufacturer, supplier, wholesaler, distributor, OEM and ODM from a factory in Taiwan. We continue to innovate, improve, and enhance as well as integrate the resources internally and externally to strengthen the flexibility of our company and the competitiveness of our products, and provide both old and new customers with best
Laboratory Gear Pump
and the best service.

Laboratory Gear Pump

Model - GF-302/GF-303

GF series Gear Pump

【Origin】

Taiwan

【Function and Feature】
Full-colored LCD touch screen control panel.
Suitable for transferring thicker or high pressure liquids.
Low noise and no pulse transferring.
working modes: flow, time dispense, volume dispense and copy dispense modes.
Excellent anti-interruption design. Wide range voltage tolerance suitable for complex power supply environments.
Magnetic coupling design for easy maintenance.
Servo motor drive, high efficiency and maintenance free.
User calibration interface for constant accuracy.
Smart cooling system for long lasting usage.
Compatible with different pump heads.
External control interface included.
RS485 with MODBUS protocol for easy connection.
【Specs】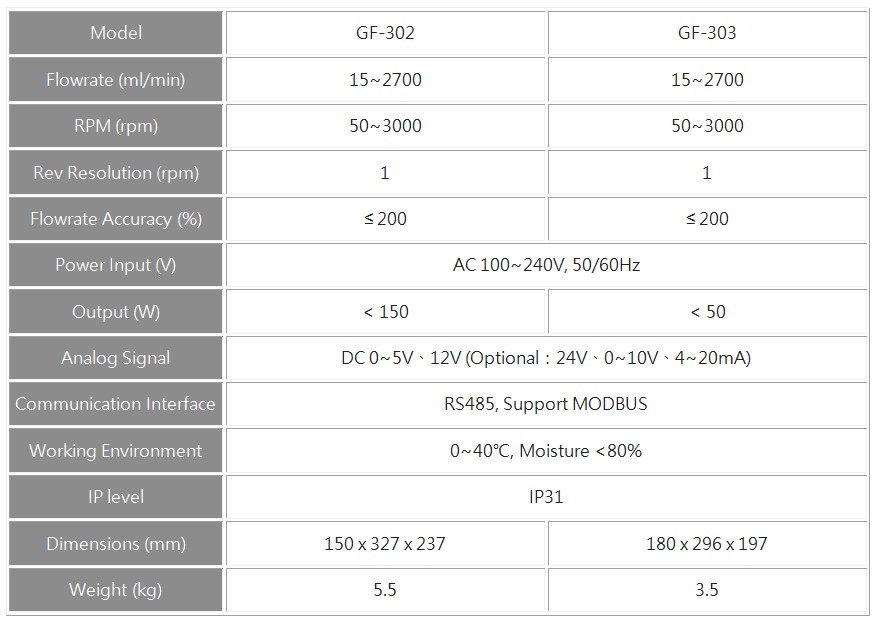 【Suitable Tubes and Pump Heads】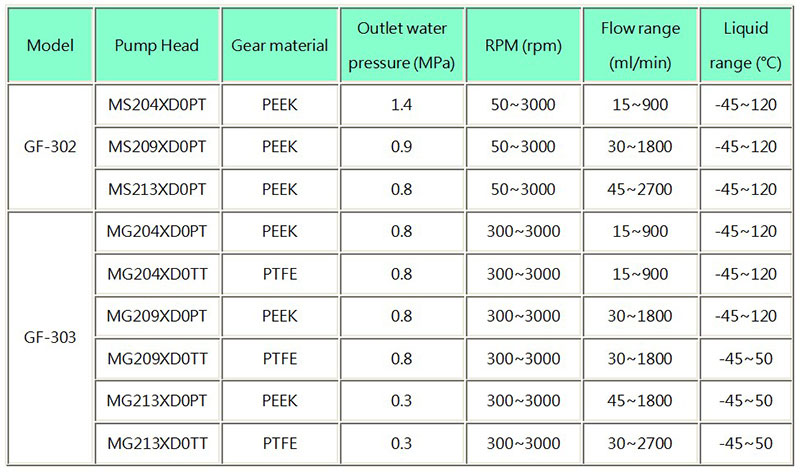 【Note】
※ Photos are for references only.
Yotec Instruments CO., LTD.
GF-302/GF-303
none
Yotec Instruments CO., LTD.
GF-302/GF-303
none
Enquiry Now
Products List