The best
Mini Magnetic Stirrer
from the
Mini Magnetic Stirrer
manufacturer, supplier, wholesaler, distributor, and factory. Yotec Instruments CO., LTD. has been one of the
Mini Magnetic Stirrer
manufacturers, suppliers, exporters for so many years in Taiwan. We set up team work centralized enterprise culture to train company competence. We initiate human-based management, normalized managing policy, standardization flows and consistent quality. Learning organization is our development aim. We believe that all the employees unite together to work hard, and with our marketing idea that customer first, quality priority, people oriented, we can develop into larger and stronger. At the same time, we can serve customers more value, and devote more to society. We are your best choice.
To find and shop the best Mini Magnetic Stirrer, you need to know about the highest quality of Mini Magnetic Stirrer manufacturer, supplier, wholesaler, distributor, OEM and ODM from a factory. We export top quality
Mini Magnetic Stirrer
which meet international standards. We can supply at any required quantity at a very competitive price regularly, packing as per buyers advice. Kindly contact us for specification and quotation.

Mini Magnetic Stirrer

Model - mini p

Mini Magnetic Stirrer

【Origin】

Taiwan

【Function and Feature】
Strong magnetic field holds the pellet sturdily while stirring.
2L stirring capacity.
Can be use as multi points stirrer while linking to other units.
Maximum speed of 1500rpm.
【Accessories】
25mm Magnet pellet x1.
Linkage cord x1.
【Specs】

【Note】
Yotec Instruments CO., LTD.
mini p
none
Yotec Instruments CO., LTD.
mini p
none
Enquiry Now
Products List
View Detail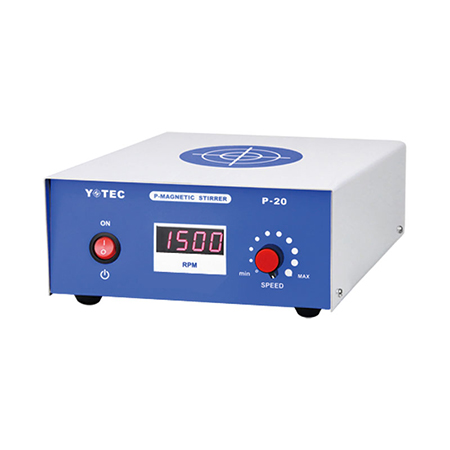 Yotec Instruments CO., LTD.
To find and shop the best Mini Magnetic Stirrer, you need to know about the highest quality of Mini Magnetic Stirrer manufacturer, supplier, wholesaler, distributor, OEM and ODM from a factory
P-15/P-20/P-30
none