The best
Pump Head
from the
Pump Head
manufacturer, supplier, wholesaler, distributor, and factory. Our company is specialized in manufacturing, supplying and exporting of
Pump Head
. With the stable basis of production and channel of supply, we hold many qualified suppliers as long-term cooperative partners, which are competent to satisfy our clients with the high-quality products and perfect service. Here, we hope to enter into the cooperative relationship with people all over the world on the basis of equality and mutual benefit in order to develop our common prospect. Also, we sincerely welcome buyers abroad to conduct business and enhance friendship with us.
To find and shop the best Pump Head, you need to know about the highest quality of Pump Head manufacturer, supplier, wholesaler, distributor, OEM and ODM from a factory. We can support new designs according to the requirements of customers; our
Pump Head
is to fulfill our potential to ensure the highest quality service. For more information on our products, please take your time to browse through our website or give us a call, we wish to be of service soon.

Pump Head

Model - AT series,CMC25,FL series,FZ-10,HZ25/HZ25-L,MF series

Pump Heads

【Origin】

Taiwan

AT series

【Introduction】

AT series pump head is designed for small and medium flow, multi-channel and low-pulse delivery and design; user-friendly pressure plate, so that replacement of silicone tube will be convenient; pump head with high-quality stainless steel rollers, Tube gap can be fine-tuned by the screw on the top; it reduces the pulse for tranfering, suitable for stable transmission of small flow of liquid.

【Function and Feature】
Removable pressure plate for easy installation.
Compatible to a variety of tubing to meet wide flow range needs.
Pressure plate is made of PPS material, excellent lifetime and the low friction characteristic can increase tubing lifetime.
Roller are made of stainless steel, self-lubricating, to prevent rust.
Tube gap tuning which improves the consistency between channels.
【The parameters】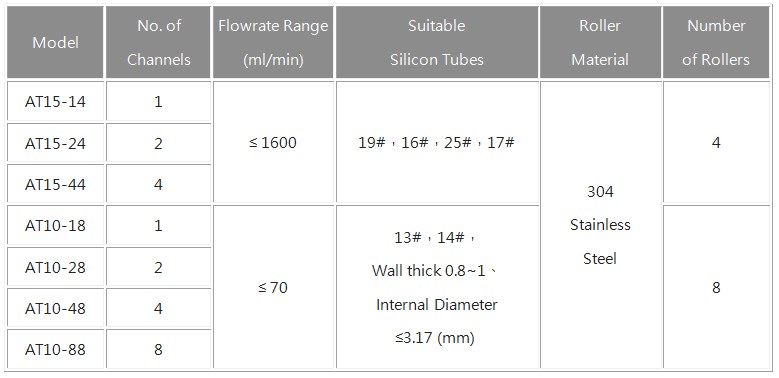 High Precision Low Pulsation Pump Head
【Introduction】
CMC25 is specially designed for high accuracy or low pulse filling requirements. With phase difference double lock, double channels and a 'Y' shape joint tube alternating with each other reduce the pulse problem by a great amount as well as increase the accuracy. Guillotine-lock design is able to prevent abrasion of tubes cause by vibration. The whole pump head is made with POM and aluminum magnesium alloy for high mechanical strength and stability.
The pulse problem can be reduced by using two rollers with different positioning to cover the unstability of eachother and produces a low pulse flow with precisely high accuracy.
【The parameters】

FL series Pump Heads
【Introduction】
Suits wide range of silicon tubes, simple and easy to replace tubes. Multiple pump heads can be connected for higher flow or multiple channels. PPS material is solid and durable which can resistant to solvents and other corrosion fluids.
【Pump Head Material Information】
The pump heads of YOTEC peristaltic pump are made of PPS, short for 'Phenylene Sulfide'. It is an integrated high performance engineering thermoplastic which has a characteristic of heat resistance, corrosion resistance and superior mechanical performance.
The melting point of PPS is at 280℃, heat distortion at 260℃. PPS can stand at 260℃ for a short period of time and can operate normally at 200℃.
Superior corrosion and solvent resistance. One of the main characteristics of PPS is its chemical resistance. The stability is only after PTFE. PPS is stable to most of acids, esters, ketones, aldehydes, phenols, aliphatic hydrocarbons, aromatic hydrocarbons and chlorinated hydrocarbons. There are no solvents that can dissolve PPS below 200℃. PPS also has a high resistance to alkaline and salt.
PPS has a strong stiffness and solid surface, it is known as 'metal plastic' which has a great creep and fatigue resistance.
【The parameters】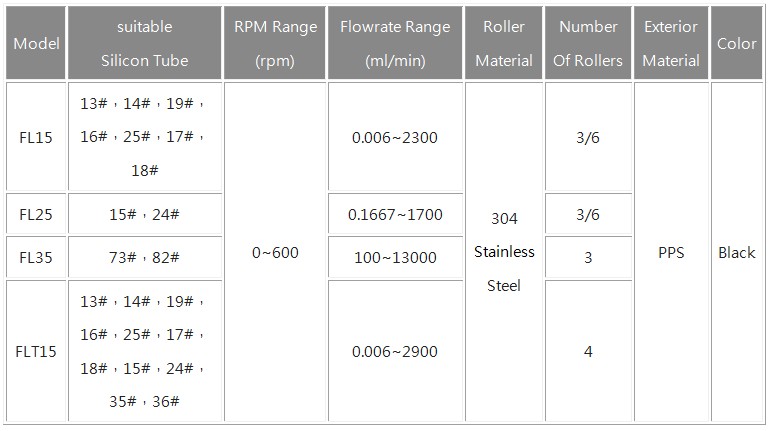 FZ series Pump Heads
【Introduction】
FZ-10 Pump Head is for a small volume transmit, compact design and easy installation.
【Function and Feature】
Roller material:POM (Polyoxymethylene).
Suitable Silicon Tube:Wall thick 0.8~1、1 ≤ Internal Diameter ≤ 3.17(mm).
【The parameters】

HZ series Pump Heads
【Introduction】
HZ pump head has a larger flow rate capacity up to 6.8L/min which can fit with various sizes of tubing. It only takes a few seconds to install a tube, which the pump heads can also be connected to each other. Rollers are made of SUS304 steel with clear PC chassis providing vision to observe the operation. Upper lockers are made of PPS for strong hardness, high chemical stability and heat resistance.
HZ25-L uses precision machined aluminum alloy, high precision, suitable for high hardness hose, and better weather-proof ability.
【The parameters】

MF series Pump Heads
【Introduction】
MF Head is for a micro and multiple channel transmitting. SUS roller and the cassette can be adjusted to fit the wide range of tubing and for easy tubing exchange.
【The parameters】

【Note】
Photos are for references only.
Yotec Instruments CO., LTD.
AT series,CMC25,FL series,FZ-10,HZ25/HZ25-L,MF series
none
Yotec Instruments CO., LTD.
AT series,CMC25,FL series,FZ-10,HZ25/HZ25-L,MF series
none
Enquiry Now
Products List