How to choose the best
Lab Syringe Pump
manufacturer, supplier, wholesaler, distributor, and
Lab Syringe Pump
factory? We frequently improve our products as every technology change in the fast developing industry. We try every ways to make sure that our product of
Lab Syringe Pump
will satisfy our customer's requirement. we are happy to offer detailed information of more models for your reference. Please
contact now
.
Shop the best Lab Syringe Pump, you need to know about the highest quality of Lab Syringe Pump manufacturer, supplier, wholesaler, distributor, OEM and ODM from a factory in Taiwan. We guarantee we must make you satisfy with our product and service. Therefore, if you have any question about our
Lab Syringe Pump
, you can tell us. We will give you early reply. If you are interested in our product or you want to inquiry, please feel free to
contact us
or you can email to us. Join us right now!
Lab Syringe Pump
Model - KDS100/KDS101
KDS100 series Syringe Pump
【Origin】
KDS/USA
【Applicable industry】
Micro channel, electrophoresis, plasma resonance, Bio technology, animal experiments, micro liquid feed, quantitative liquid feed, cell culture, instruments calibration, emulsification experiments and reaction vessel loop.
《Single syringe infusion pump KDS100》
---Simple to operate, durable and accurate---
【Function and Feature】
Compatible with a wide range of syringe from 10μl to 60ml.
Maximum flow rate of 423ml/hr.
《Dual syringe nano-liter pump KDS101》
---Best suitable for pulse-less flow and ultra-low flow rate applications---
【Function and Feature】
Compatible with dual syringes from 10μl to 10ml, single syringe up to 10ml.
Minimum flow rate of 0.001μl/hr. (with 10ml syringe)
【Specs】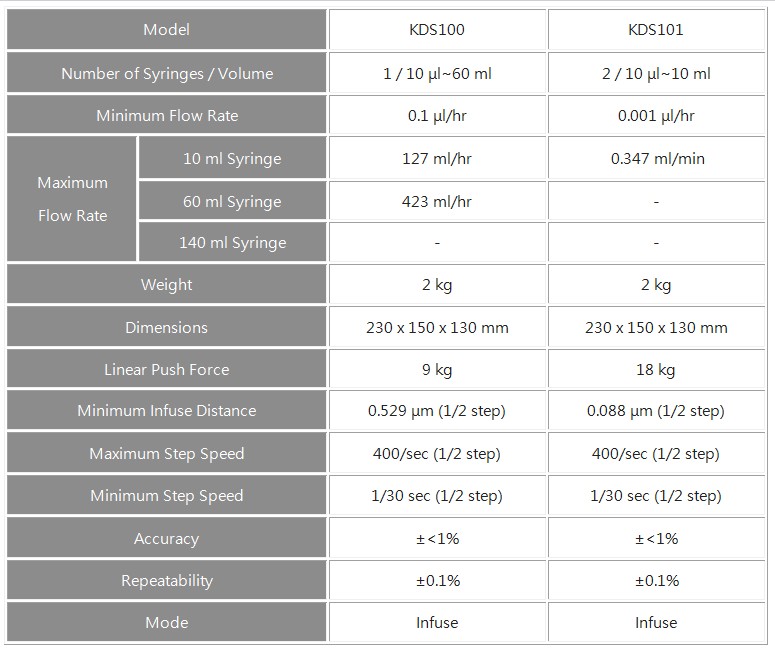 【Note】
Optional alarm: every KDS pumps can purchase additional alarm device, sirens when process ends.
Photos are for references only.
Yotec Instruments CO., LTD.
KDS100/KDS101
none
Yotec Instruments CO., LTD.
KDS100/KDS101
none
Enquiry Now
Products List