Several things you need to know about
Laboratory Syringe Pump
from the
Laboratory Syringe Pump
manufacturer, supplier, wholesaler, distributor, and factory in Taiwan. Yotec Instruments CO., LTD. is an export-oriented company supplying
Laboratory Syringe Pump
to the world market. We have our own factory located in Taiwan. We can supply client kinds of wire and wire mesh with competitive price and good quality. Our company is engaged in the business line of this industry.
To find and shop the best Laboratory Syringe Pump, you need to know about the highest quality of Laboratory Syringe Pump manufacturer, supplier, wholesaler, distributor, OEM and ODM from a factory in Taiwan. Due to our excellent quality, good management system and superior after-sales service, we have already enjoyed a long-lasting good reputation in the world market. We will keep working on the goal of being a quality manufacturer. If you are interested on our
Laboratory Syringe Pump
and need further information or problems, please don't hesitate to
contact us
soon.
Laboratory Syringe Pump
Model - Gemini PLUS
Gemini PLUS Syringe Pump
【Origin】
KDS/USA
【Applicable industry】
HPLC & LPLC, Quality calibration, Long period infusion, Simultaneously infuse 2 different fluids.
【Introduction】
Gemini PLUS is a pump with 2 independent rate controls. Each side has an independent syringe rack to hold different sizes of syringes. The pump can simultaneously infuse or withdrawal at different rates, or infuse with one syringe and withdraw with the other. With a combination of a valve box it provides continuous delivery like Legato.
【Function and Feature】
Able to link up with 100 pumps.
TTL interface.
70lb linear push force.
RS232 connection interface.
Available for both high and low pressure.
CE certified.
Ultra precision flow rate and volume.
Non-stop operation.
Pico liter flow rate capable.
Easy to set up.
【Specs】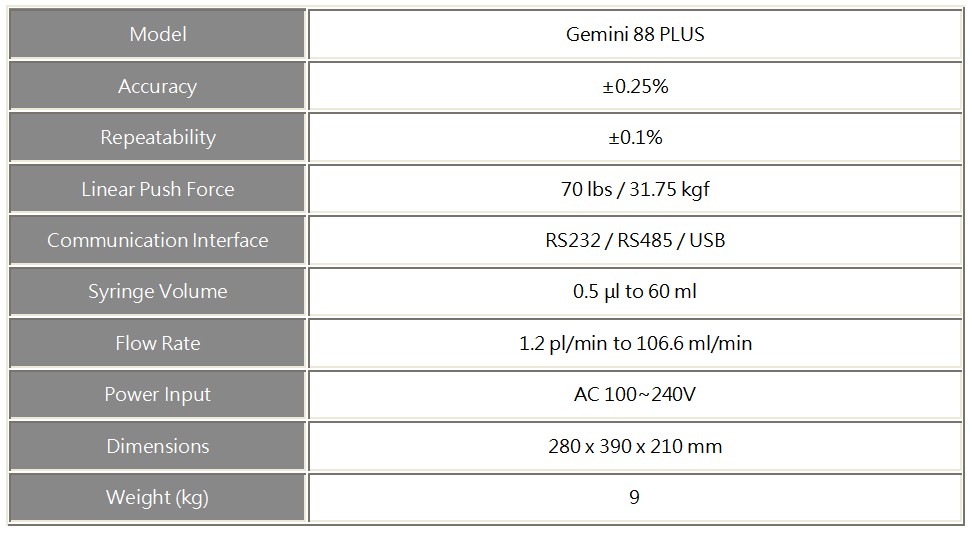 【Note】
Optional alarm: every KDS pumps can purchase additional alarm device, sirens when process ends.
Photos are for references only.
Yotec Instruments CO., LTD.
Gemini PLUS
none
Yotec Instruments CO., LTD.
Gemini PLUS
none
Enquiry Now
Products List