How to choose the best
Overhead Mixer
manufacturer, supplier, wholesaler, distributor, and
Overhead Mixer
factory? Yotec Instruments CO., LTD. is one of international leading manufacturers and suppliers of
Overhead Mixer
. On base of rich experience and strong technology. We are engaged in providing a variety of products to meet clients' needs. If you are looking for a reliable supplier in Taiwan, we are your best choice.
Contact us
today!
Shop the best Overhead Mixer, you need to know about the highest quality of Overhead Mixer manufacturer, supplier, wholesaler, distributor, OEM and ODM from a factory in Taiwan. Our advanced technology and hard-working staffs to ensure the competitiveness of our top quality
Overhead Mixer
, meanwhile, customer satisfaction is our constant pursuit.

Overhead Mixer

Model - MXB-300M/MXB-875M/MXB-1400M/MXB-3500M/ MXB-875L/MXB-1400L/MXB-3500L

MXB Digital DC Brushless Mixer
【

Origin】

Taiwan

【Function and Feature】
Brushless motor with high quality drive parts for quiet and maintenance free operation.

Compact design, no additional power supply needed.
Auto torque adjustment for stable RPM.
Stainless shaft and pellets.
Digital display of actual RPM, torque value and loading %.
6 Levels motor output indication.
Hollow motor design for easy pellets adjustment, suitable for shafts < Φ10 mm.
Safety fuse device.
Overload and overheat protection.
Timer.(0-99Hr 59Min)
Dual screen display
【Accessories】
800 mm pillar x1
370x270 mm base plate x1
Stirrer Φ10x200 mm x1
Stirring blade (Propeller) x1
【Optional】
Power failure buzzer.

Overloading over temperature buzzer.
Air cooling & Anti-dust system.
Automatic lift system.
External control DC 0-5V.
External alarm.
External Speed display.
Larger stir bar holder.
LED lighting.
【Specs】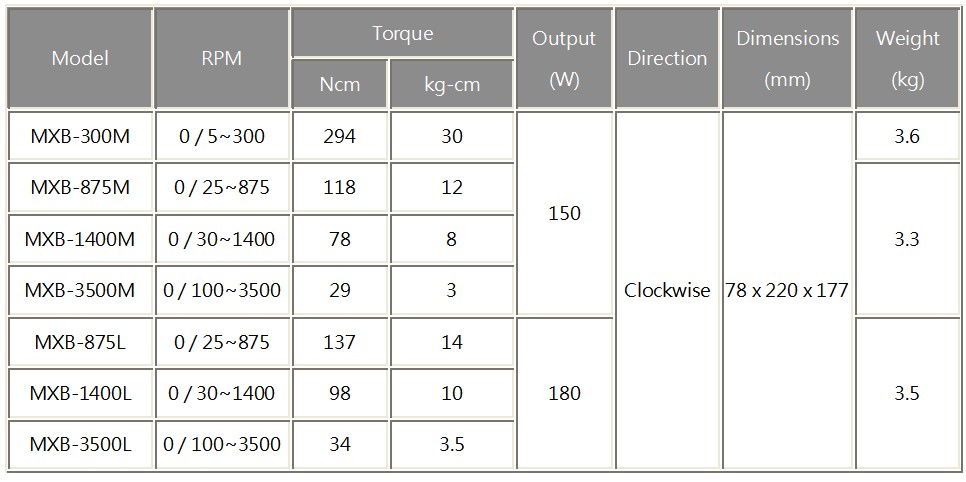 【Note】
AC 110V 50/60Hz. (Another AC 220V 50/60Hz mixer type)
Yotec Instruments CO., LTD.
MXB-300M/MXB-875M/MXB-1400M/MXB-3500M/ MXB-875L/MXB-1400L/MXB-3500L
none
Yotec Instruments CO., LTD.
MXB-300M/MXB-875M/MXB-1400M/MXB-3500M/ MXB-875L/MXB-1400L/MXB-3500L
none
Enquiry Now
Products List