The best
Reversible Mixer
-To find the finest quality
Reversible Mixer
from a manufacturer, supplier, wholesaler, distributor, and factory. Our products are popular in manufacture, supply and export lab equipment in Taiwan. Thanks to the powerful distribution network and skillful employers, our
Reversible Mixer
products have best quality and the most competitive price. Please feel free to
contact us
.
To find and shop the best Reversible Mixer, you need to know about the highest quality of Reversible Mixer manufacturer, supplier, wholesaler, distributor, OEM and ODM from a factory in Taiwan. Guarantee all of
Reversible Mixer
comply with international quality standards and are greatly appreciated in a variety of different markets all over the world.

Reversible Mixer

Model - MRB-300M/MRB-875M/MRB-1400M/MRB-3500M/ MRB-875L/MRB-1400L/MRB-3500L

MRB Digital DC Brushless Mixer

【Origin】

Taiwan

【Introduction】

Powerful laboratory stirrer for highly viscous applications and intensive mixing for quantities up to 1000 L (300 Series). It automatically adjusts the speed through microprocessor controlled technology within the speed range of 0 – 3500 rpm. Safety circuits installed automatic cut-off in an anti-stall or overload ensures conditions. Loading percentage display for knowing the loading of the stirrer. Continuous comparison of shaft speed to desired speed is maintained and variations are adjusted automatically. This guarantees a constant speed even with changes in viscosities of the sample. Adjustable auto-reverse function to reducing air bubbles and mixing time. A better stirring result than the ordinary stirrer Guaranteed!

【Function and Feature】
Three stirring modes:Clockwise / Anticlockwise / Auto reverse.
Brushless motor with high quality drive parts for quiet and maintenance free operation.
Compact design, no additional power supply needed.
Auto torque adjustment for stable RPM.
Stainless shaft and pellets.
Digital display of actual RPM, torque value and loading %.
6 Levels motor output indication..
Hollow motor design for easy pellets adjustment, suitable for shafts < Φ10 mm.
Safety fuse device.
Overload and overheat protection.
Timer.(0-99Hr 59Min)
Dual screen display.
【Accessories】
800 mm pillar x1
370x270 mm base plate x1
Stirrer Φ10x200 mm x1
Stirring blade (Propeller) x1
【Optional】
Power failure buzzer.
Overloading over temperature buzzer.
Air cooling & Anti-dust system.
Automatic lift system.
External control DC 0-5V.
External alarm.
External Speed display.
Larger stir bar holder.
LED lighting.
【Specs】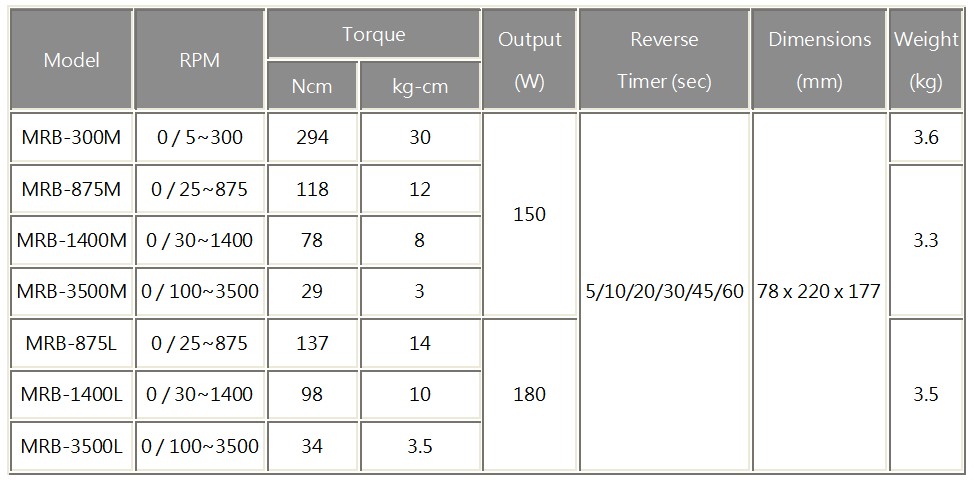 【Note】
AC 110V 50/60Hz. (Another AC 220V 50/60Hz mixer type)
Yotec Instruments CO., LTD.
MRB-300M/MRB-875M/MRB-1400M/MRB-3500M/ MRB-875L/MRB-1400L/MRB-3500L
none
Yotec Instruments CO., LTD.
MRB-300M/MRB-875M/MRB-1400M/MRB-3500M/ MRB-875L/MRB-1400L/MRB-3500L
none
Enquiry Now
Products List