Several things you need to know about
Pid Temperature Controller
from the
Pid Temperature Controller
manufacturer, supplier, wholesaler, distributor, and factory in Taiwan. Yotec Instruments CO., LTD. is a supplier, which make exclusive
Pid Temperature Controller
and is suitable for the middle and high end market. We know very well that the high quality, reasonable price and good after sales service are the keys to the business transaction, those what we are offering to you.
To find and shop the best Pid Temperature Controller, you need to know about the highest quality of Pid Temperature Controller manufacturer, supplier, wholesaler, distributor, OEM and ODM from a factory in Taiwan. On the future developing road, we will take good advantages of our research as usual, and continuously explore the use of new materials and technologies to improve the quality and function of our
Pid Temperature Controller
, thereby to meet all needs of customers.

Pid Temperature Controller

Model - GX-66/GX-7 series

GX-66/GX-7 series Precision PID Temperature Controller

【Origin】

Taiwan

【Function and Feature】
Buzzer alarm switch.
Compact design.
Parameter lock function.
Temperature correction.
Over-temperature shutdown.
PID secondary over-temperature power.(GX-7)
Heating output adjustment.
Selection available in K/J/T/E/R/S/N types.
【Accessories】
K TYPE sensor, ∮1.6mm, L=25cm x1. (GX-66 series)
Tested report. (GX-66 series)
TEFLON K type sensor, L=100 cm x1.
Tripod. (GX-7)
【Optional】
Wide range of temp. sensor choice.
RS485 to USB.
RS485.
RS232. (GX-7)
【Specs】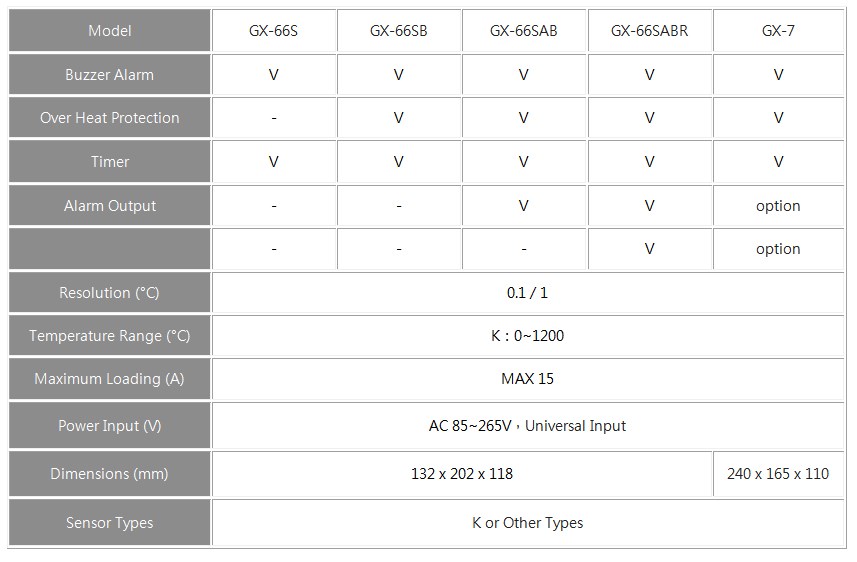 【Note】
Yotec Instruments CO., LTD.
GX-66/GX-7 series
none
Yotec Instruments CO., LTD.
GX-66/GX-7 series
none
Enquiry Now
Products List