Find the high quality
Analytical Balance Precision
manufacturer and
Analytical Balance Precision
supplier's guide, with a factory in Taiwan. Yotec Instruments CO., LTD. is a major manufacturer, supplier,developer and producer of high quality
Analytical Balance Precision
. We aim to produce products with high standard of quality, style, technology, and innovation. This is achieved by using only the best raw materials, experienced engineers, and production facilities available. And, we guarantee to provide you these products to overseas markets with high quality and competitive price. Our good quality and our professional service are appreciated by customers from many countries, if you are interested please free to contact us.
Shop the best guide of Analytical Balance Precision, you need to know about the highest quality of Analytical Balance Precision manufacturer, supplier, wholesaler, distributor, OEM and ODM from a factory in Taiwan. Our
Analytical Balance Precision
match the stringent quality norms of the international market. Quality is something we take in our stride, for it is an inseparable part of right conduct and work ethics. Our quality standards act as a bench mark for the entire industry.

Analytical Balance Precision

Model - PA-214/PA-214i/PA-214i+/PA-613/PA-813/PA-1003

PA series Precision Analyzing Balance

【Origin】

Taiwan

【Introduction】

PA series precision balances use the magnetic based sensor to provide the extremely precision solution, and the new "Mono Block" technology increases the stability of the balance.

The tool box at the back of the balance provides a safety storage space for the weight and connection cables, and will not be lost again.

【Function and Feature】
7 stages sensitivity adjustment / 6 anti-shock levels adjustments.
Multi-point linear correction.
Mode lock function.
Under the hook weighing function.
Large LCD back light screen.
RS232 interface.
Date/Time/Temperature display.
Including mg , g , and ounce etc. 17 units.
【Weighing application function】
Counting feature.
Animal/Dynamic weighting feature.
Percentage weighting.
Specific weight reading.
【Accessories】
Calibrate weight.
Transmission line.
【Optional】
Density Kit for Electronic Balance.
【Specs】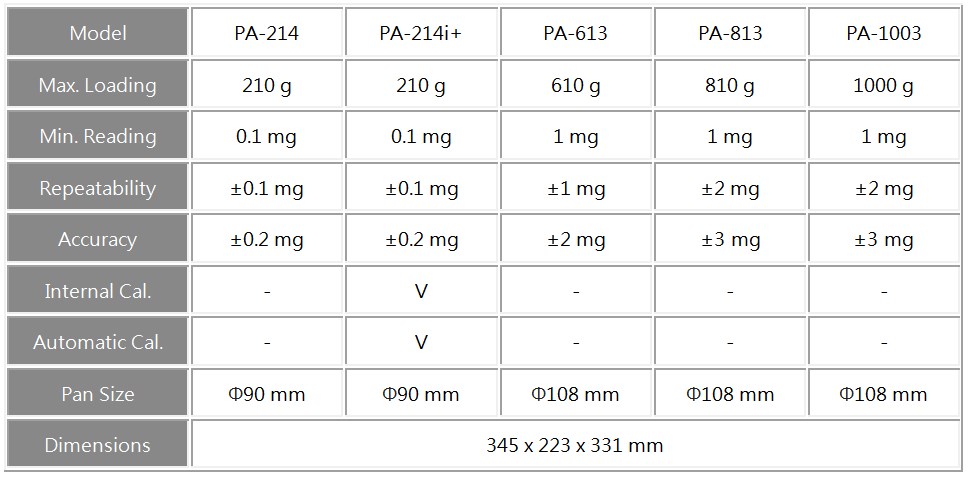 Yotec Instruments CO., LTD.
PA-214/PA-214i/PA-214i+/PA-613/PA-813/PA-1003
none
Yotec Instruments CO., LTD.
PA-214/PA-214i/PA-214i+/PA-613/PA-813/PA-1003
none
Enquiry Now
Products List