How to choose the best
Lab Analytical Balance
manufacturer, supplier, wholesaler, distributor, and
Lab Analytical Balance
factory? Yotec Instruments CO., LTD. is an export-oriented company supplying
Lab Analytical Balance
to the world market. We have our own factory located in Taiwan. We can supply client kinds of wire and wire mesh with competitive price and good quality. Our company is engaged in the business line of this industry.
Shop the best Lab Analytical Balance, you need to know about the highest quality of Lab Analytical Balance manufacturer, supplier, wholesaler, distributor, OEM and ODM from a factory in Taiwan. We pride ourselves on consistently delivering quality
Lab Analytical Balance
with assured purity at competitive prices. We sincerely welcome domestic and overseas clients' contacting and cooperating with us.

Lab Analytical Balance

Model - PT-303/PT-302/PT-3002

PT series Basic Precision Balance

【Origin】

Taiwan

【Function and Feature】
AC/DC compatible.
Mode-lock Feature.
Large LCD Back light screen.
Including mg, g and ounce etc. 14 units.
【Weighing application function】
Counting feature.
Percentage weighting.
【Specs】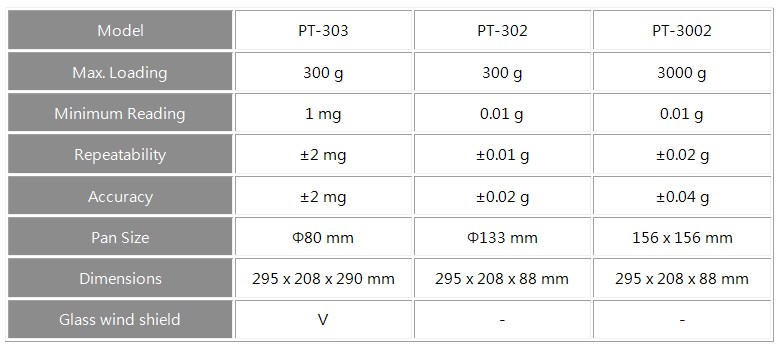 Yotec Instruments CO., LTD.
PT-303/PT-302/PT-3002
none
Yotec Instruments CO., LTD.
PT-303/PT-302/PT-3002
none
Enquiry Now
Products List