Few things you need to know about
Analytical Balance Lab
from the
Analytical Balance Lab
manufacturer, supplier, wholesaler, distributor, and factory. Please check
Analytical Balance Lab
via our website. We are a supplier, manufacturer, exporter and excellent designer. We also have friendly work team, so we just believe we can do everything perfectly for you. We are confident that the samples will be very satisfactory. Our mutual understanding and cooperation will certainly result in important business and good service. If you see any opportunity to do better, please let us know, we will make sure that all your inquiries will receive our prompt attention.
To find and shop the best Analytical Balance Lab, you need to know about the highest quality ofAnalytical Balance Lab manufacturer, supplier, wholesaler, distributor, OEM and ODM from a factory in Taiwan. All the staff will serve the old and new customers with best
Analytical Balance Lab
and the best service. You are also welcome to include any comments of support at the same time.

Analytical Balance Lab

Model - PA-105iD+/PA-224iD+/PA-324iD+

PA+ series Precision Analyzing Balance

【Origin】

Taiwan

【Function and Feature】
2-stage automatic weighing.
7 stages sensitivity adjustment / 6 anti-shock levels adjustments.
Fully automatic calibration. (instant, timing, temperature detection)
Multi-point linear correction.
The internal weight can be adjusted to match the weight of the external delivery weight.
Under the hook weighing function
Date/Time/Temperature display.
Mode lock function.
Large LCD back light screen.
Anti-interference, anti-static metal shell
Including mg , g , and ounce etc. 17 units.
RS232 interface.
【Automatic Internal Cal.】
Instant automatic calibration.
Automatic calibration time.
Temperature changes automatically corrected.
【Weighing application function】
Counting function.
Pricing function.
Animal/Dynamic weighting feature.
Percentage weighing.
Specific weight reading.
Upper and lower check weight.
Peak hold.
Accumulated weighing.
【Optional】
Density Kit for Electronic Balance.
【Specs】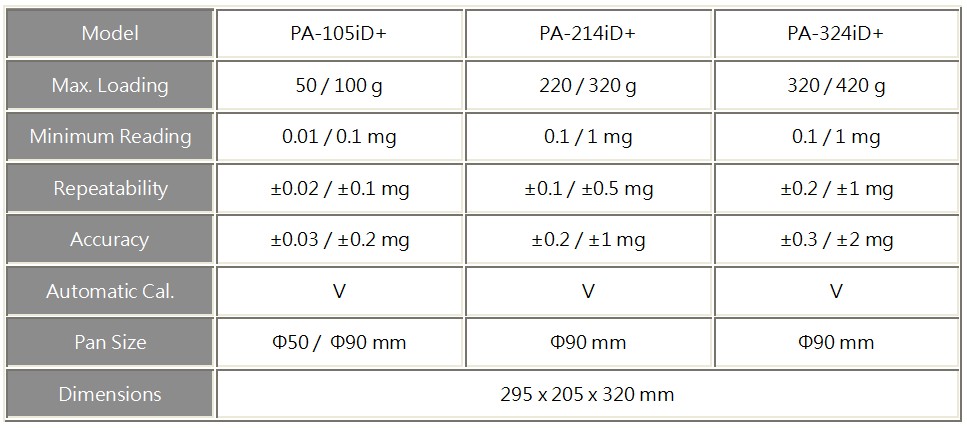 Yotec Instruments CO., LTD.
PA-105iD+/PA-224iD+/PA-324iD+
none
Yotec Instruments CO., LTD.
PA-105iD+/PA-224iD+/PA-324iD+
none
Enquiry Now
Products List