You need to know about
Auto Viscometer
from the
Auto Viscometer
manufacturer, supplier, wholesaler, distributor, and factory. We are an excellent supplier, manufacturer and exporter that specialized at
Auto Viscometer
. Most of our products are exported overseas, we have made it possible to produce products with much more quality, support and affordability for our customers. Moreover, your own design provided are welcome and we believe that a trial order would convince you that the products we are offering are the excellent value for the market. We welcome orders for our own line as well as ODM/OEM orders from small and large customers.
To find and shop the best Auto Viscometer, you need to know about the highest quality of Auto Viscometer manufacturer, supplier, wholesaler, distributor, OEM and ODM from a factory in Taiwan. Our main products are all kinds of
Auto Viscometer
, and they are well-received in China and international market. We welcome you to contact us for more information and look forward to working with you!

Auto Viscometer

Model - GV500

Automotive Lab Viscometer

【Origin】

Hydramotion / UK

【Function and Feature】
High sensitivity, excellent repeatability.
Built in temperature sensor.
No moving parts, maintenance free.
Light weighted design, can be installed to any automotive machineries.
【Optional】
External temperature input.
【Specs】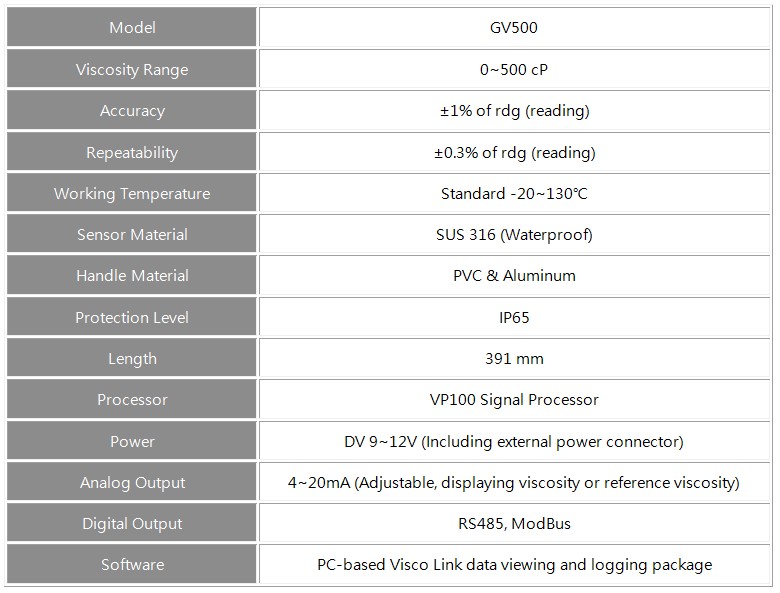 【Note】
Yotec Instruments CO., LTD.
GV500
none
Yotec Instruments CO., LTD.
GV500
none
Enquiry Now
Products List