How to choose the best
Inline Viscometer
manufacturer, supplier, wholesaler, distributor, and
Inline Viscometer
factory? Yotec Instruments CO., LTD. is one of the renowned names involved in Taiwan manufacturer, supplier and exporter a comprehensive range of
Inline Viscometer
which are sturdily constructed and appreciated for their portability. In order to assure the quality of our range, we manufacture this utilizing high grade material, which we procure from certified vendors. We provide these products with different gradations in size and specifications customizable as per the clients' exact needs. Our range is in high demand by our client spread across the international market and can be availed at industry leading prices. If you are interested in any styles of our products, please feel free to
contact us
.
Shop the best Inline Viscometer, you need to know about the highest quality of Inline Viscometer manufacturer, supplier, wholesaler, distributor, OEM and ODM from a factory in Taiwan. We product attractive and durable
Inline Viscometer
to meet all customers' requests, our company will abide by the following rules: go-aheadism, honest-cooperating, top-quality, high-tech. Which make our products selling well all over the world.

Inline Viscometer

Model - VP250/VP550

Processors for Viscometers

【Origin】

Hydramotion / UK

【Optional】
USB output.
【Introduction】
The VP550 Processor provides all the functions needed to get the best out of your in-line viscometer.
A powerful interface unit linking the viscometer to the operator, it provides critical viscosity data on a high visibility display at the touch of a button. A full range of analogue and digital I/O gives the VP550 excellent connectivity for process control, monitoring and system integration.
VP250 is a compact, rail-mounted terminal block for location within the plant wiring e.g. junction box or back of panel.
A small backlit display allows for occasional access to viscosity data and adjustment of any configurable parameters.
【Specs】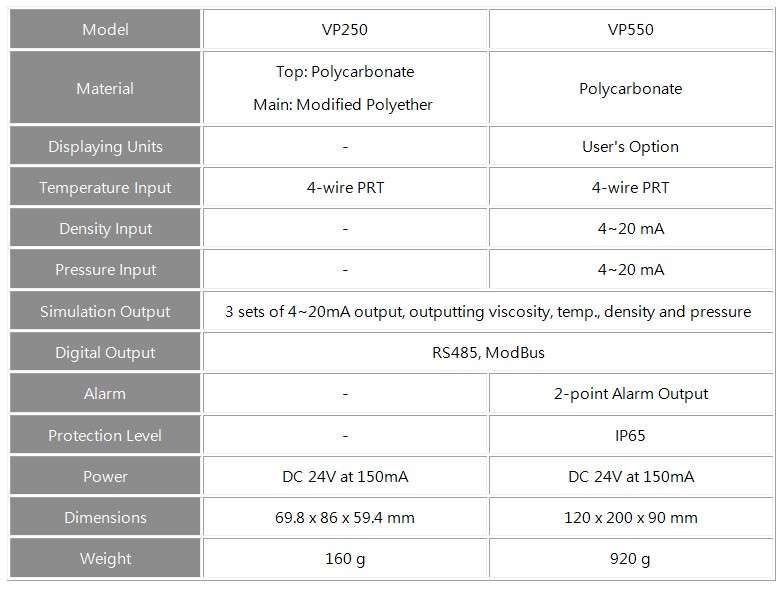 【Note】
Yotec Instruments CO., LTD.
VP250/VP550
none
Yotec Instruments CO., LTD.
VP250/VP550
none
Enquiry Now
Products List