Find the high quality
Simple Viscometer
manufacturer and
Simple Viscometer
supplier's guide, with a factory in Taiwan. We are a professional
Simple Viscometer
manufacturer, supplier and exporter, with more than years of years of experience, the factory in Taiwan We focus on this product can be customized according to customer demand. Any quantity is welcomed. With agressive attention, we can always offer you newest items in the market, with best price and service.
Shop the best guide of Simple Viscometer, you need to know about the highest quality of Simple Viscometer manufacturer, supplier, wholesaler, distributor, OEM and ODM from a factory in Taiwan. We have own a powerful talent pool which can make sure to delivery on time with the good quality and reasonable price.
Simple Viscometer
has passed the strict checking and boasts sound market reputation.

Simple Viscometer

Model - VJ100

Economical Viscometer

【Origin】

Hydramotion / UK

【Introduction】

VJ100 can easily be installed with connection to PLC or DSC for monitoring. No calibration needed.

【Function and Feature】
Cost productive and most economical online viscometer.
Independent sensor, no mainframe design.
High sensitivity, excellent repeatability.
Built in temperature sensor.
No moving parts, maintenance free.
【Specs】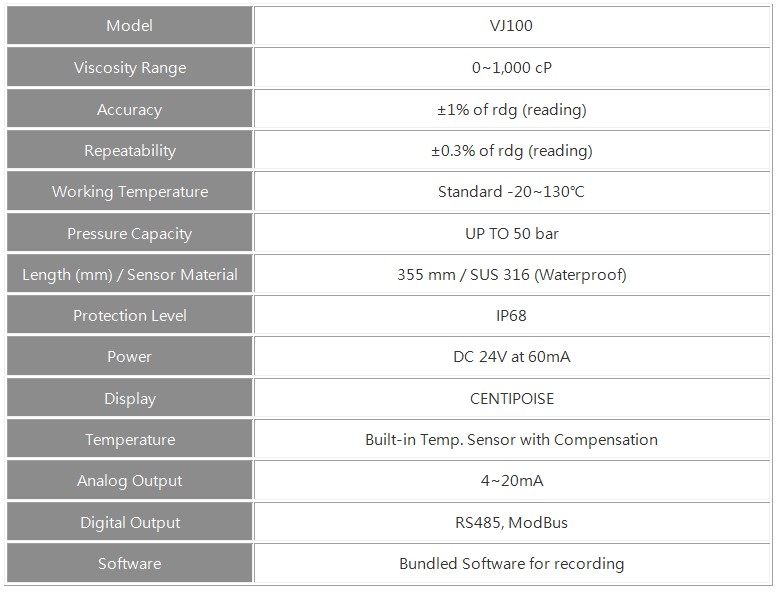 【Note】
Yotec Instruments CO., LTD.
VJ100
none
Yotec Instruments CO., LTD.
VJ100
none
Enquiry Now
Products List