You need to know about
Bottle Cap Torque Tester
from the
Bottle Cap Torque Tester
manufacturer, supplier, wholesaler, distributor, and factory. We have engaged in developing, supplying, and manufacturing of
Bottle Cap Torque Tester
together. In addition to our existing products, we also accept customized orders for completion. Our products have been going well throughout the domestic market and oversea countries.Therefore, we keep forging ahead and continue to innovate constantly. We wish to establish long-term worldwide business relationships. If you are interested in any of our products, please do not hesitate to contact us.
To find and shop the best Bottle Cap Torque Tester, you need to know about the highest quality of Bottle Cap Torque Tester manufacturer, supplier, wholesaler, distributor, OEM and ODM from a factory in Taiwan. Prefroming in line with the tenet of "regarding quality as No. 1, sincere cooperation, expansion innovation and preeminence pursuit" our company welcome domestic and foreign old and new friends to consult our
Bottle Cap Torque Tester
.

Bottle Cap Torque Tester

Model - TQ-1BN/TQ-2BN/TQ-5BN/TQ-10BN/TQ-20BN

TQB series Torque Tester for Bottle Caps

【Origin】

Taiwan

【Introduction】

TQB Series torque tester for bottle caps is a smart instrument designed for all kinds of testing for screwing force of caps. This tester is also suit for lamps. It is easy to cap on and largest diameter can be 200mm.

【Function and Feature】
Peak-lock Timer. Set display time of peak value between 1-10 seconds.
Comparison Function: Max and minimum deviation setting with red and green light indicators and alarms.
Memory Function: Can store 10 sets of testing data with average result calculation.
3 Selections of Units: N-m, kgf-cm, lbf-in.
Power saving function: Set auto power-off between 1-60 minutes.
RS232C output. Able to connect to printers or computers for printing and analyzing with torque curves.
Built-in Printer. Able to print torque curves or 10 sets of testing results.
【Specs】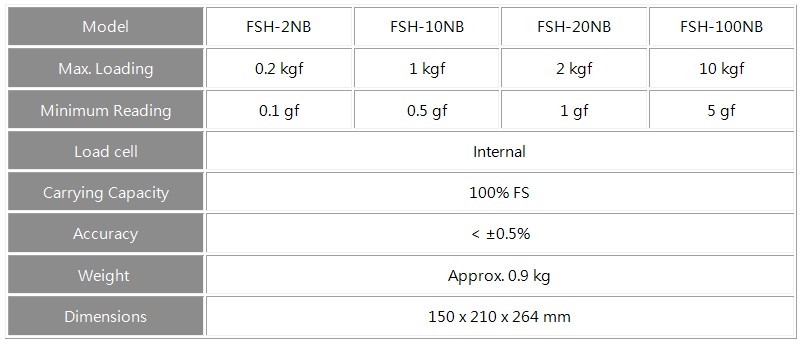 Yotec Instruments CO., LTD.
TQ-1BN/TQ-2BN/TQ-5BN/TQ-10BN/TQ-20BN
none
Yotec Instruments CO., LTD.
TQ-1BN/TQ-2BN/TQ-5BN/TQ-10BN/TQ-20BN
none
Enquiry Now
Products List