The best
Universal Material Testing Machine
from the
Universal Material Testing Machine
manufacturer, supplier, wholesaler, distributor, and factory. Yotec Instruments CO., LTD. was established as Taiwan
Universal Material Testing Machine
manufacturer and supplier. Our factory incorporates the very latest in hi-tech machinery and testing equipment. We continues to improve on product quality and assure that each product exceeds the performance and reliability standards expected by customers worldwide. Customers are assured of receiving the most innovative and highest quality professional products. Please do not hesitance to
contact us
now.
To find and shop the best Universal Material Testing Machine, you need to know about the highest quality of Universal Material Testing Machine manufacturer, supplier, wholesaler, distributor, OEM and ODM from a factory. We product attractive and durable
Universal Material Testing Machine
to meet all customers' requests, our company will abide by the following rules: go-aheadism, honest-cooperating, top-quality, high-tech. Which make our products selling well all over the world.

Universal Material Testing Machine

Model - UT-300

Universal Material Testing Machine

【Origin】

Taiwan

【Introduction】

The core components of the system using the latest American ADI ultra-precision 24-bit AD, the sampling rate of 500 times / second, the resolution of one of 100,000. And 7 points calibration to further improve accuracy. High-definition large screen blue LCD display (5.8 "), directly enter the test parameters, Chinese and English user interface layer prompts, easy operation. In addition to RS232 for the PC communication, professional measurement software, real-time display: Force - displacement, force - time, displacement - time, stress - strain curves automatically calculate the maximum force, yield strength, average force, maximum deformation, yield point, elastic modulus and other parameters, and has a flexible report editing and columns Printing function; report can display and print the value of tensile strength (Mpa).

【Function and Feature】
LCD screen.
Force analysis: 1 / 200,000, the sampling frequency of 500 times / second.
Force accuracy: ± 0.3% of the displayed value (0.2 ~ 100% FS).
Applicable range: 300 kg (3000N), optional other specifications.
Displacement resolution: 0.001mm.
Test speed:0.1mm / min~500mm / min. (according to customer requirements to 1000 mm/min)
Speed Accuracy:± 0.5% of the displayed value.
Single test, manual 10 points statistics, and automatically calculate the average value, the fracture value (suitable peel, tear test), can store multiple sets of data.
Unit arbitrary switch:Power:g / kgf / N / KN / lbf;Displacement:mm / cm / in.
Automatic return function.
Overload protection.
With a variety of test methods, such as: ordinary, stretch side, stretch round, tear, peel, set load, positioning shift, spring, three bending, four bending.
Printable test results, and with the point that print function.
Standard RS232 computer interface.
【Accessories】
Sharp mouth Fixture x2.
【Optional】
A small printer.
【Specs】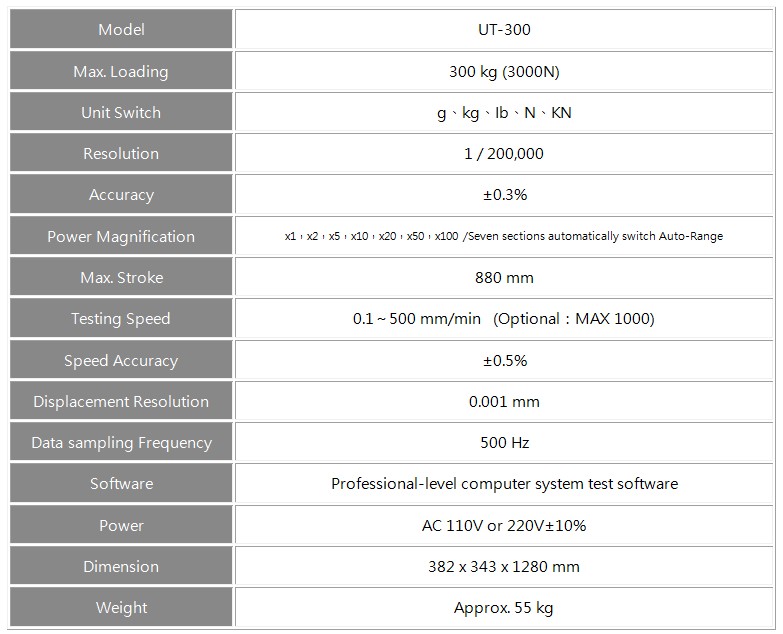 【Note】
Photos are for references only.
Yotec Instruments CO., LTD.
UT-300
none
Yotec Instruments CO., LTD.
UT-300
none
Enquiry Now
Products List