How to choose the best
Digital Torque Tester
manufacturer, supplier, wholesaler, distributor, and
Digital Torque Tester
factory? Yotec Instruments CO., LTD. based manufacturer, supplier and exporter of high quality
Digital Torque Tester
. We are an export-oriented enterprise which integrates design, development, production and service. Due to low labour costs and highly skilled work force and state of the art production facility, we are able to manufacture high quality products at lowest prices and provide value for money. We sincerely welcome all friends home and abroad to contact us,either by establishing business relationships or to work together to obtain mutual benefits.
Shop the best Digital Torque Tester, you need to know about the highest quality of Digital Torque Tester manufacturer, supplier, wholesaler, distributor, OEM and ODM from a factory in Taiwan. We welcome new and old customers at home and abroad to visit our company. Let's develop continually develop new
Digital Torque Tester
products and go ahead together. Looking forwards to our perfect cooperation and resplendent achievement in the future.

Digital Torque Tester

Model - TQ-1N/TQ-2N/TQ-5N/TQ-10N/TQ-20N/ TQ-50N/TQ-100N/TQ-200N/TQ-500N

TQ series Digital Torque Tester

【Origin】

Taiwan

【Introduction】

TQ Series Digital Torque Tester is a Smart Instrument Designed for all kinds of Experiments for torque testing. It's mainly designed to test and correct torques of electronic pneumatic screw drivers, torque drivers and torque wrenches as well as any products involving tightening force, components twisting forces. Wide range application for electronic, light industry, machinery production and R&D institutions.

【Function and Feature】
Peak-lock timer. Set display time of peak value between 1-10 seconds.
Comparison functions: Max and minimum deviation setting with red and green light Indicators and Alarms.
Memory Function: Can store 10 sets of testing data with average result calculation.
3 Selections of Units: N-m, kgf-cm, lbf-in.
Power Saving Function: Set auto power-off between 1-60 minutes.
RS232C output. Able to connect to printers or computers for printing and analyzing with torque curves.
Built-in Printer. Able to print torque curves or 10 sets of testing results.
【Specs】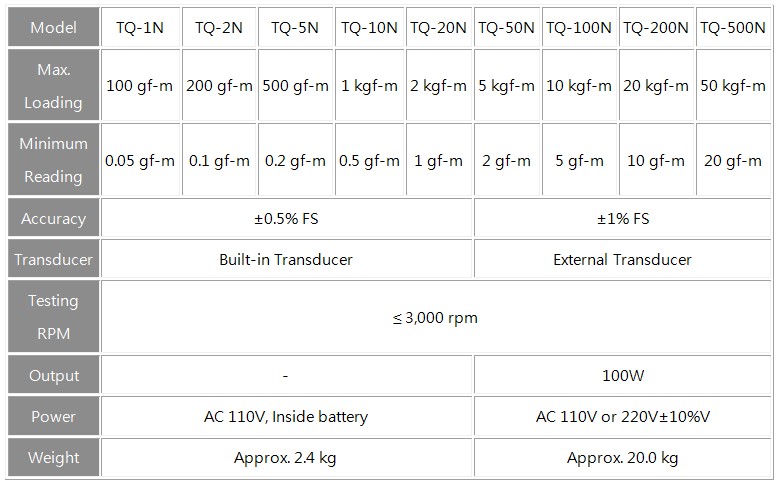 Yotec Instruments CO., LTD.
TQ-1N/TQ-2N/TQ-5N/TQ-10N/TQ-20N/ TQ-50N/TQ-100N/TQ-200N/TQ-500N
none
Yotec Instruments CO., LTD.
TQ-1N/TQ-2N/TQ-5N/TQ-10N/TQ-20N/ TQ-50N/TQ-100N/TQ-200N/TQ-500N
none
Enquiry Now
Products List