Find the high quality
High Flow Peristaltic Pump
manufacturer and
High Flow Peristaltic Pump
supplier's guide, with a factory in Taiwan. As a professional manufacturer, supplier and exporter, Yotec Instruments CO., LTD. is a manufacturing enterprise specializing in the designing, development, production and trade of
High Flow Peristaltic Pump
.If you have problems or are disappointed with the low quality of other companies' products, please try our products. Our products will satisfy you and your customers perfectly. We supply products to all China customers.
Shop the best guide of High Flow Peristaltic Pump, you need to know about the highest quality of High Flow Peristaltic Pump manufacturer, supplier, wholesaler, distributor, OEM and ODM from a factory in Taiwan. We're constantly looking for new ways to improve the way we work and pass the savings on to you. That's why we've been working closely with suppliers to ensure we have
High Flow Peristaltic Pump
to offer than ever before and at the best prices.

High Flow Peristaltic Pump

Model - W series

W series Smart Industrial Peristaltic Pump

【Origin】

Taiwan

【Function and Feature】
Stainless steel chassis preventing corrosion and simple to maintain.
Large torque output, Pump heads can be replaced with other heads for different combinations.
Buttons control RPM, directions, start/stop and full speed, easy to operate.
Circuit board coated with 3 layers to provide dust and damp proof.
Applicable in industries for large amount of fluid transfer.
RS485 connection supporting MODBUS protocol easy to connect to variety of devices.
Excellent anti-interruption design. Wide range voltage tolerance suitable for complex power supply environments.
WS600-65 / WF600-65 IP65 protection, hermetically sealed design, can be applied to places with dusty, high humidity or water splash.
【WF series】
Equipped with full-colored touch screen.
Flow rate calibration, infra-red control.
4 different operating modes: flow, volume, time and copy rationings with 5 sets of memory for each mode.
Driven by DC brushless step motor, no maintenance required.
Smart cooling system for long lasting usage.
【Optional】
Foot switch.
Infrared remote control.
Handheld dispenser.
Safety leak detector.
【Specs】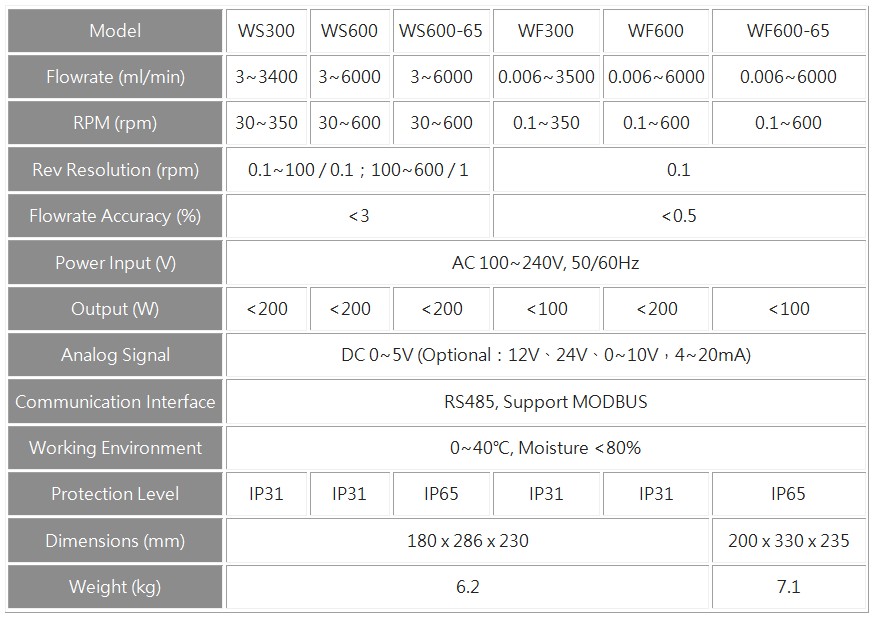 【Suitable Tubes and Pump Heads】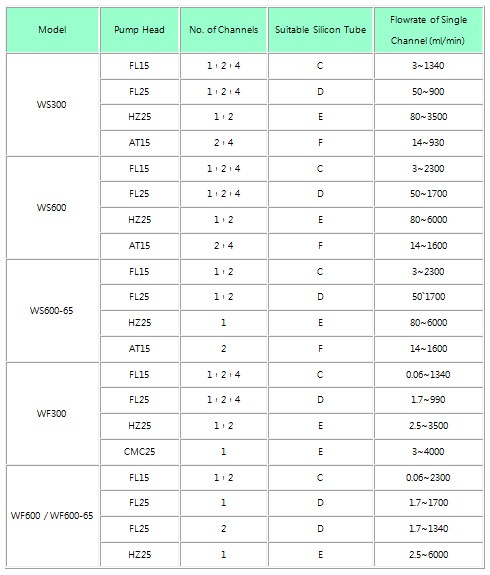 C:13#,14#,16#,19#,25#,17#,18#
D:15#,24#
E:15#,24#,35#,36#
F:19#,16#,25#,17#
【Note】
Photos are for references only.
Yotec Instruments CO., LTD.
W series
none
Yotec Instruments CO., LTD.
W series
none
Enquiry Now
Products List