The Best
High Pressure Peristaltic Pump
-To find the finest quality
High Pressure Peristaltic Pump
from a manufacturer, supplier, wholesaler, distributor, and factory. Yotec Instruments CO., LTD. is a leading manufacturer, supplier of wide range of
High Pressure Peristaltic Pump
in Taiwan. We adhere to the spirit "Solidarity, Struggle, Innovation and Work devotion", our company has passed ISO Quality management certificate, all the products have got certificate. See satisfy to customer as our object, see the market demands as the direction and continually improve quality and develop new products. Our aim is quality first, credit standing, win market. We insist in good quality, good credit, good service and competitive price and cooperated with customer. Welcome all of friends come to contact with us to set up business relationship.
To find and shop the best High Pressure Peristaltic Pump, you need to know about the highest quality of High Pressure Peristaltic Pump manufacturer, supplier, wholesaler, distributor, OEM and ODM from a factory in Taiwan. We're constantly looking for new ways to improve the way we work and pass the savings on to you. That's why we've been working closely with suppliers to ensure we have
High Pressure Peristaltic Pump
to offer than ever before and at the best prices.

High Pressure Peristaltic Pump

Model - PL102/PL302/PL602 (SUS304 shell) PL103/PL303/PL603 (ABS shell)

PL series Standard Peristaltic Pump

【Origin】

Taiwan

【Introduction】

With a PLC touch screen, the user can clearly sees the information about the pump, and all the settings can easily be edited. The integrated memory function memorized the settings from previous use, the user no longer needs to keep the settings in mind.

【Function and Feature】
Full-colored LCD touch screen control panel.
Start/Stop, reverse, full speed, speed adjustment, easy dispensing and power off memory functions.
Flow Rate control and display, accumulation of fluid transferred, calibration functions etc.
Easy dispensing can duplicate desired volume at a fixed time.
Smart cooling system for long lasting usage.
Excellent anti-interruption design. Wide range voltage tolerance suitable for complex power supply environments.
Pump heads can be replaced with other heads for different combinations.
PL102/PL302/PL602 are in stainless steel chassis preventing corrosion and simple to maintain.
PL103/PL303/PL603 are in ABS plastic chassis, sharp looking design.
Interior structure has a double layer isolation design, circuit board coated with 3 layers to provide dust and damp.
RS485 with MODBUS protocol for easy connection.
【Optional】
Foot switch.
Infrared remote control.
Handheld dispenser.
Safety leak detector.
【Specs】
《Chassis:SUS 304》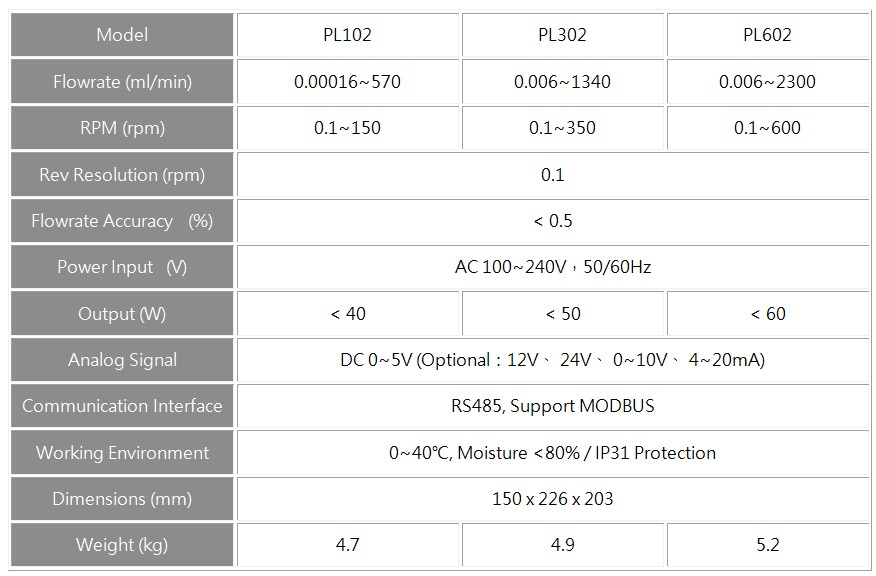 《Chassis:ABS》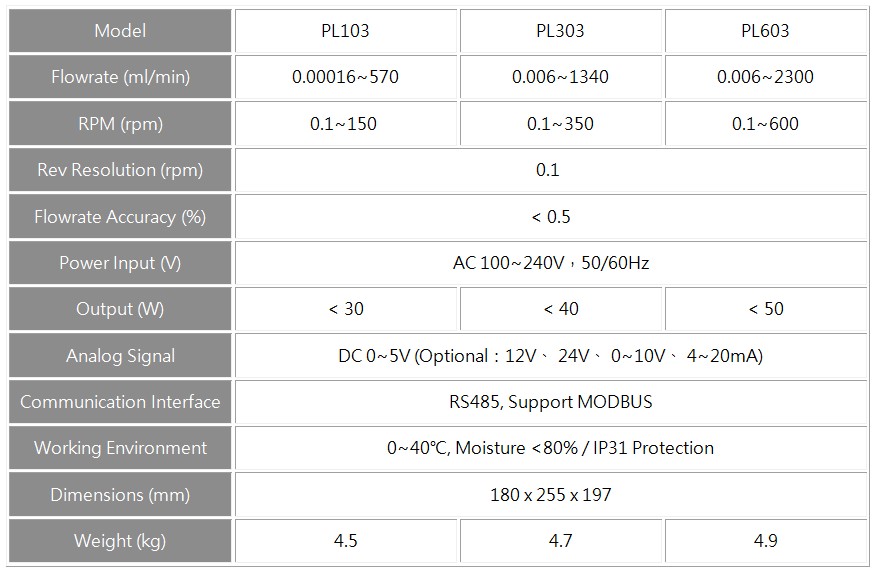 【Suitable Tubes and Pump Heads】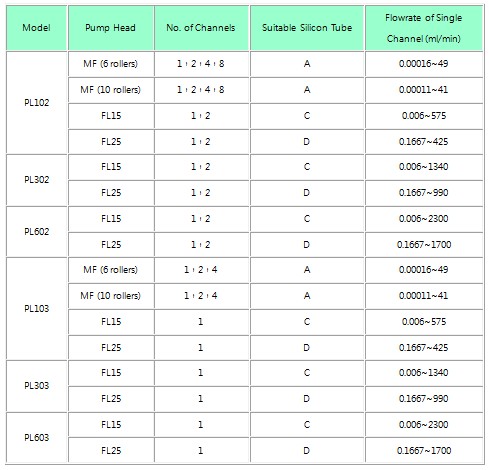 A:Wall thick 0.8~1、Internal Diameter ≤3.17 (mm)
C:13#,14#,16#,19#,25#,17#,18#
D:15#,24#
【Note】
Photos are for references only.
Yotec Instruments CO., LTD.
PL102/PL302/PL602 (SUS304 shell) PL103/PL303/PL603 (ABS shell)
none
Yotec Instruments CO., LTD.
PL102/PL302/PL602 (SUS304 shell) PL103/PL303/PL603 (ABS shell)
none
Enquiry Now
Products List