How to find the high quality
Laboratory Peristaltic Pump
from the
Laboratory Peristaltic Pump
manufacturer, supplier, wholesaler, distributor, and factory? We are an expert Taiwan manufacturer, supplier and factory, which has been experienced for producing
Laboratory Peristaltic Pump
products etc. We aim at serve our customers in the finest quality products, competitive price with prompt delivery. Customer's growth is our growth and we'd like to create mutual benefits for each other in long term cooperation. We always ensure dedicated products through quality control and keep to breed professional workers. Please be free to
contact with us
for more details.
To find and shop the best Laboratory Peristaltic Pump, you need to know about the highest quality of Laboratory Peristaltic Pump manufacturer, supplier, wholesaler, and distributor, OEM and ODM from a factory in Taiwan. If you are interested in our product, please don't hesitate to contact us. We are honored to receive you requests. We are eager to do business with you. Hope you can find the specific
Laboratory Peristaltic Pump
from our products.

Laboratory Peristaltic Pump

Model - PF102/PF102A/PF302/PF602 (SUS304 shell) PF103/PF303/PLF603 (ABS shell)

PF series Peristaltic Pump

【Origin】

Taiwan

【Introduction】

PF pump is a great tool for bottling, dosing or adding ingredients, thanks for it's high accuracy pumping ability. With a high accuracy stepping motor with user-friendly calibration function, the accuracy of PF pump can be greater than 99.5%, which makes it the highest accuracy peristaltic pump in the market.

【Function and Feature】
Full-colored LCD touch screen control panel.
4 working modes: flow, time dispense, volume dispense and copy dispense modes.
Start/Stop, reverse, full speed, speed adjustment, easy dispensing and power off memory functions.
Flow Rate control and display, accumulation of fluid transferred, calibration functions etc.
Smart cooling system for long lasting usage.
Excellent anti-interruption design. Wide range voltage tolerance suitable for complex power supply environments.
Pump heads can be replaced with other heads for different combinations.
Interior structure has a double layer isolation design, circuit board coated with 3 layers to provide dust and damp proof.
PF102/PF302/PF602 are in Stainless Steel chassis preventing corrosion and simple to maintain.
PF103/PF303/PF603 are in ABS Plastic chassis, Sharp looking design.
RS485 with MODBUS protocol for easy connection.
4 Different Modes:
Flow: precisely dispense at set flow rate.
Time: dispense fluid at a set period of time.
Volume: dispense at a set volume.
Copy: Set the total capacity and dispense number, the pump will do the math.
【Optional】
Foot switch.
Infrared remote control.
Handheld dispenser.
Safety leak detector.
【Specs】
《Chassis:SUS 304》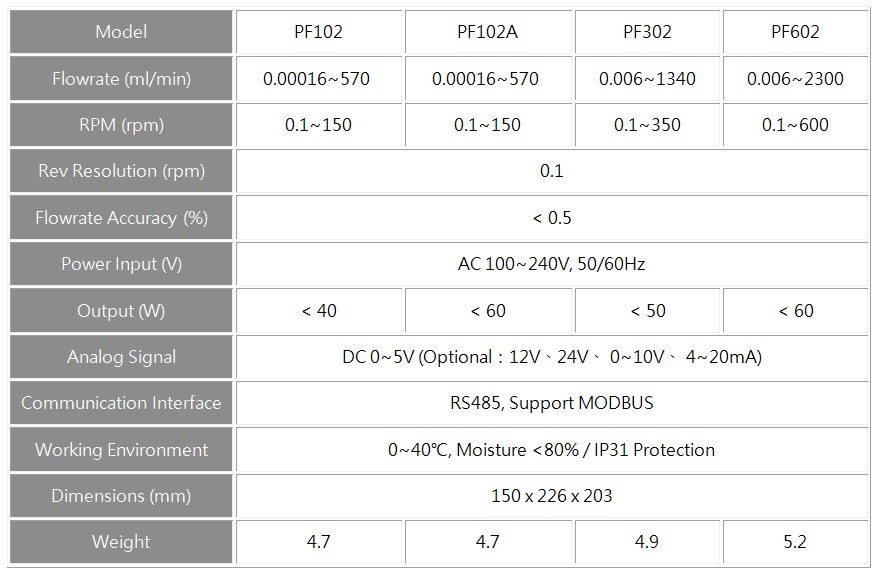 《Chassis:ABS》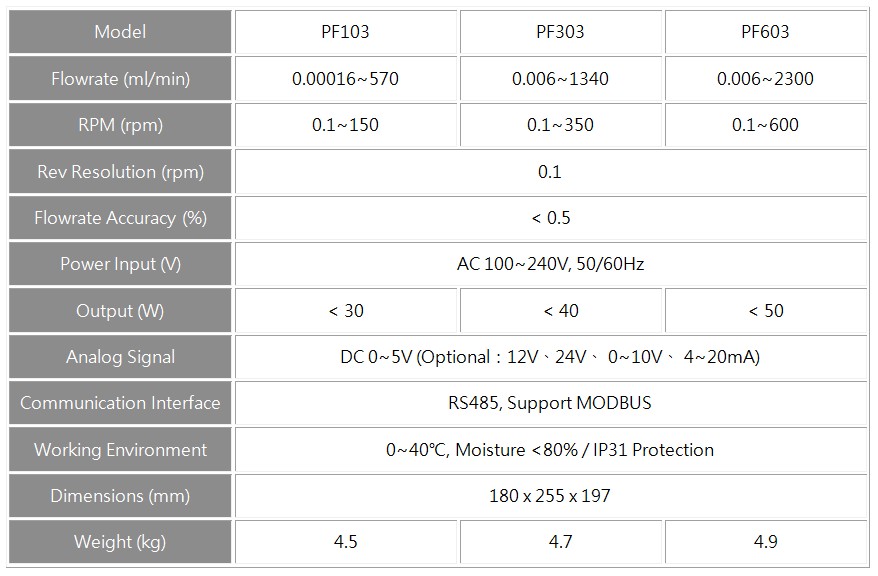 【Suitable Tubes and Pump Heads】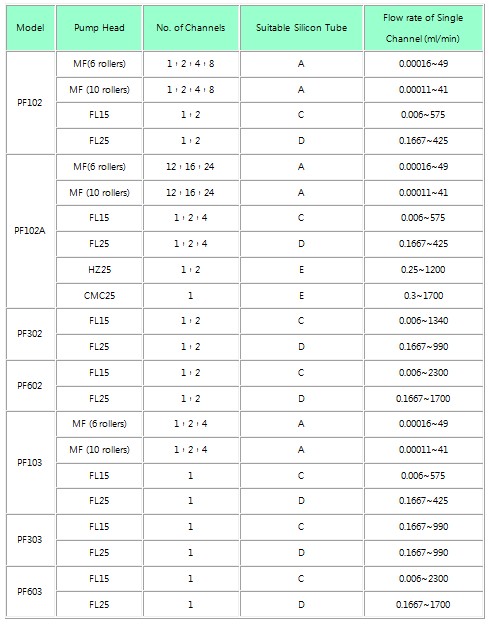 A:Wall thick 0.8~1、Internal Diameter ≤3.17 (mm)
C:13#,14#,16#,19#,25#,17#,18#
D:15#,24#
E:15#,24#,35#,36#
【Note】
Photos are for references only.
Yotec Instruments CO., LTD.
PF102/PF102A/PF302/PF602 (SUS304 shell) PF103/PF303/PLF603 (ABS shell)
none
Yotec Instruments CO., LTD.
PF102/PF102A/PF302/PF602 (SUS304 shell) PF103/PF303/PLF603 (ABS shell)
none
Enquiry Now
Products List