The best
Mini Peristaltic Pump
from the
Mini Peristaltic Pump
manufacturer, supplier, wholesaler, distributor, and factory. Yotec Instruments CO., LTD. is the manufacturer, supplier and exporter of
Mini Peristaltic Pump
, factory located in Taiwan. During the past years, we supply all over the world clients products with high quality products with reasonable prices. Both custom order and normal orders are available. We have a proven nucleus of professionals which makes us highly qualified to provide trading services to the highest standards. We have our roll of a team of well experienced and qualified professionals, capable to handle any requirements of the clients. If you want to know more,please feel free to
contact us
.
To find and shop the best Mini Peristaltic Pump, you need to know about the highest quality of Mini Peristaltic Pump manufacturer, supplier, wholesaler, distributor, OEM and ODM from a factory. Our
Mini Peristaltic Pump
products applications are worldwide valued and appreciated by our clients's and their end-user customers. We also welcome new clients, to discover the quality and service that we deliver.

Mini Peristaltic Pump

Model - SS80/SQ80S

S series Mini Peristaltic Pump

【Origin】

Taiwan

【Function and Feature】
Robust control.
LED Digital display showing operating RPM.
Easy to operate, compact size for simple installation.
Suitable for regular laboratory use with other instruments.
RPM resolution of 0.1 RPM.
Pump head includes Pharmed BPT tubes from the USA. The tube has up to 12000 hours of working life.
Indicates external or internal control mode.
Start/Stop, reverse, full speed, speed adjustment, easy dispensing and power off memory functions.
Easy dispensing can be repeated time quantitative function.
Circuit board coated with 3 layers to provide dust and damp proof.
ABS plastic chassis with recessed design as well as using as a desk top unit.
Excellent anti-interruption design. Wide range voltage tolerance suitable for complex power supply environments.
RS485 with MODBUS protocol for easy connection.
【Optional】
Foot switch.
Safety leak detector.
【Specs】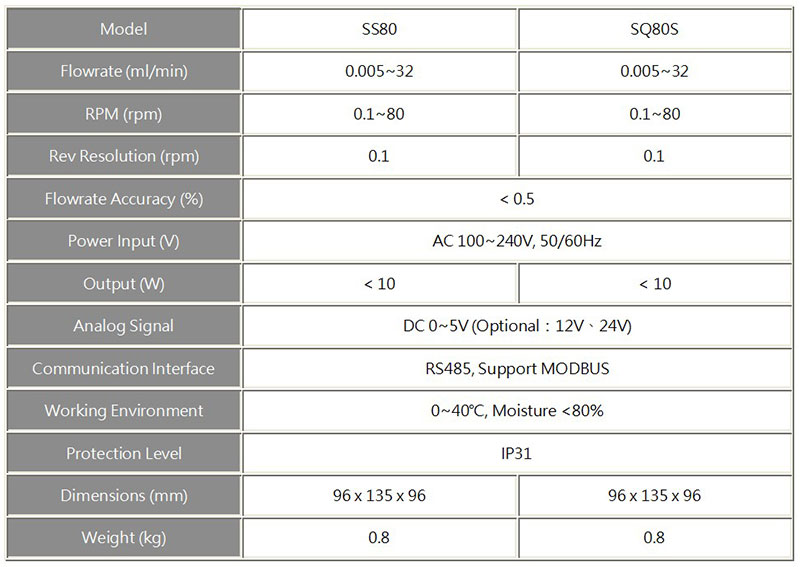 【Suitable Tubes and Pump Heads】
A:Wall thick 0.8~1、Internal Diameter ≤3.17 (mm)
B:Wall thick 0.8~1、Internal Diameter ≤2.54 (mm)
【Note】
※ Photos are for references only.
Yotec Instruments CO., LTD.
SS80/SQ80S
none
Yotec Instruments CO., LTD.
SS80/SQ80S
none
Enquiry Now
Products List