To find and shop the best Liquid Filling System, you need to know about the highest quality ofLiquid Filling System manufacturer, supplier, wholesaler, distributor, OEM and ODM from a factory in Taiwan. We can provide with best
Liquid Filling System
and thoughtful after-service. Besides, our quality controllers ensure that only the best and flawless gamut is delivered to the market.

Liquid Filling System

Model - US100/US300/US600

US series 4-Channel Filling System

【Origin】

Taiwan

【Function and Feature】
Full-colored LCD touch screen display and control.
Anti-acid Stainless Steel case preventing corrosion and simple to maintain.
Circuit board coated with 3 layers to provide dust and damp proof.
Auto stop for shortage of bottles for every channel.
Every channel is controlled independently.
Unique intelligent calibration system, reduce workload of users by a large amount, increase productivity.
Online minor RPM tuning function for users adjust the flow rate according to the aging silicon tubes.
【Specs】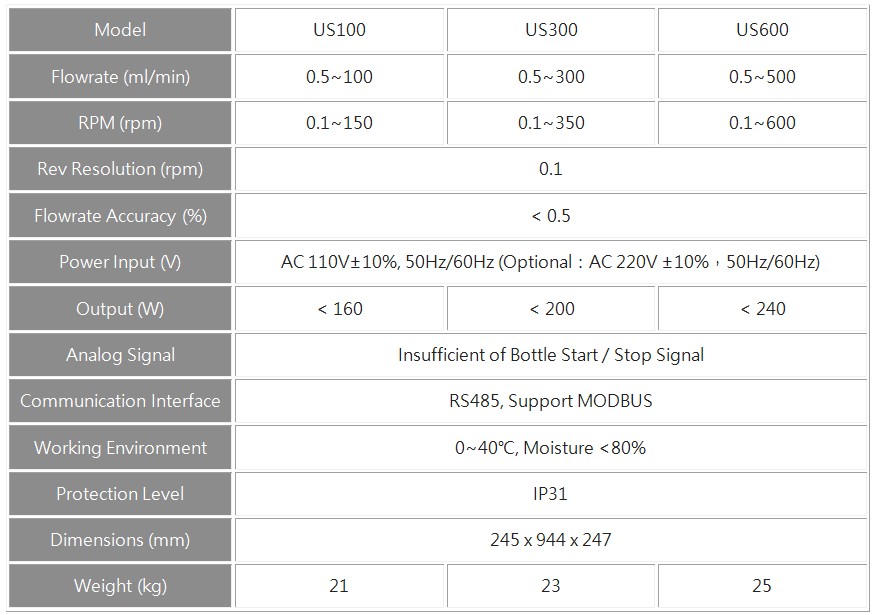 【Suitable Tubes and Pump Heads】

C:13#,14#,16#,19#,25#,17#,18#
D:15#,24#
【Note】
More channels are available.
Photos are for references only.
Yotec Instruments CO., LTD.
US100/US300/US600
none
Yotec Instruments CO., LTD.
US100/US300/US600
none
Enquiry Now
Products List